Hope and
solar power
The future of energy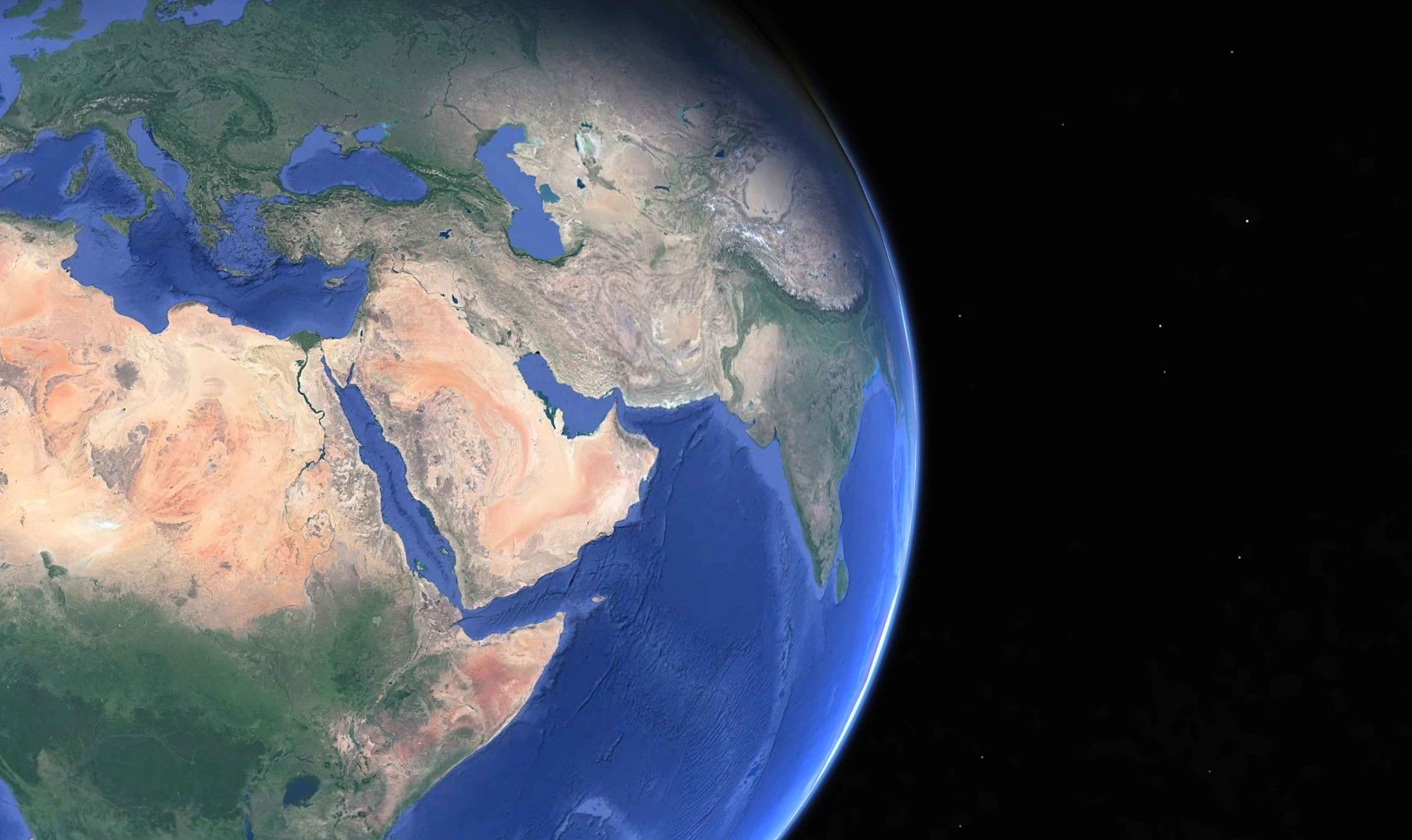 Nothing grows here, 12 miles from the Nile. Yellow, flat, hot and barren, the desert stretches as far as the eye can see.
But the biggest renewable energy development in Africa is about to turn an impoverished stretch of southern Egypt into a source of renewal as vital as the river nearby.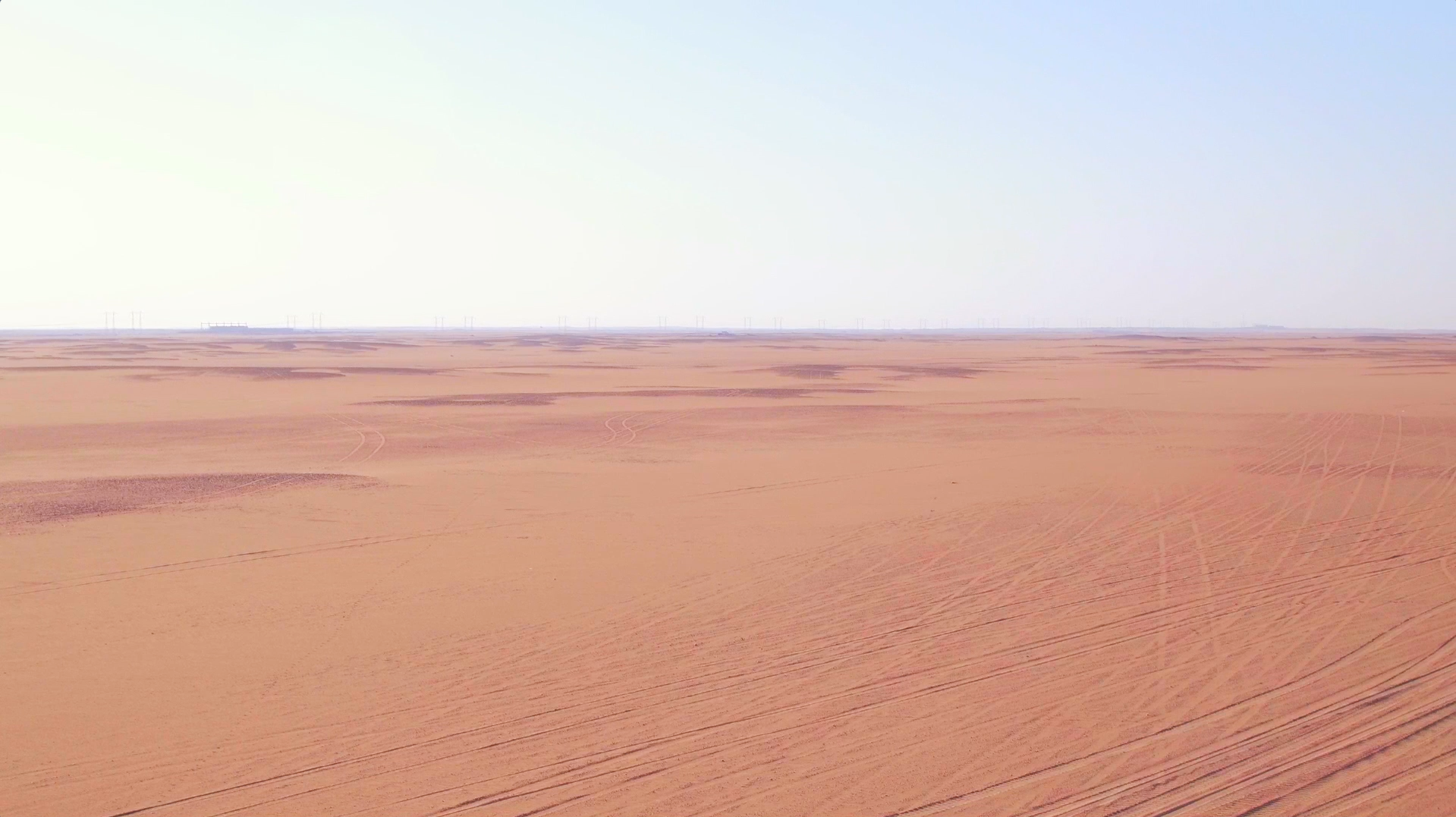 By 2019, 37 square km of desert near the village of Benban, outside Aswan, will be covered with panels – a vast solar park made up of multiple plots allocated to different sponsors.
Together they will provide 1.8 GW of electricity. It's part of the Egyptian government's ambitious plan to generate 20 per cent of its energy needs from renewable sources by 2022 and at least 35 per cent by 2030.
Developments such as Benban will not only change Egypt –which, though plentifully supplied with sun, currently has almost no solar generation – but also have revolutionary potential for the rest of the world.
As the global community grapples with becoming less dependent on polluting hydrocarbons, unexpectedly big drops in the cost of producing clean energy in the past two years have made it competitive with conventional energy in more and more countries.
This makes it likelier that solar and wind power –traditionally the preserve of tiny niche producers – could soon be scaled up to industrial levels that could help save the planet from runaway climate change.
"There is no denying we are in the midst of a revolution in the energy sector."
But part of the point about revolutions is that no one involved in them knows how they will end. So the notion that, at last, the moment has come for radical change in renewable energy also raises new questions – some of them unsettling – about how best to respond and be positioned advantageously for the future.
"We don't know where this is headed. In fact, it's quite scary - because we're making investment decisions today where we are making commitments for 20 years or more, although we're not sure that within 5 to 10 years things will look how they look today."
For the moment, however, excitement is the predominant emotion, as tenders around the world come in at ever lower prices, opening up startling new possibilities. At seven-and-a-half dollar cents per KW hour, a usual price now, EBRD bankers say, solar is competitive with gas-fired generation. But it can get cheaper still.
Until October 2017, the cheapest pricing on record for a solar project was for 2.42 cents per KW hour in Abu Dhabi. By mid-November, the renewables community was digesting an astonishing offer to supply power at a utility-scale Saudi solar plant for a record-breaking 1.79 cents per KW hour. By 21 November, however, this too had been superseded. An even cheaper price of 1.77 cents per KW hour had been achieved in Mexico. 
Arithmetic like this has brought investors who are aware of the accelerating development of the sector flocking to the Benban complex. Among IFIs, the EBRD will fund 16 plots on the future solar park, providing 750 MW of energy through a US$ 500 million renewable energy framework.
Other development banks are also offering large-scale funding. Experienced investors are committing too, from Norway's Scatec Solar and Saudi Arabia's Al Fanar and ACWA Power, to France's EDF Energies Nouvelles and EREN Renewables, to important Egyptian companies such as El Sewedy Electric and Infinity Solar, the first to build at Benban under the first round of Egypt's renewables programme.
The EBRD's work at Benban is supported by donors including the  European Union as well as  Australia,  Finland,  France,  Germany,  Italy,  the Netherlands,  Norway,  Sweden,  Taipei China and the  United Kingdom under the  SEMED Multi-Donor Account, and the  Green Climate Fund.
Jordan
Egypt is the biggest, but not the first in the region, to embrace renewable energy.
Benban follows earlier success in the field in the past few years by Egypt's smaller neighbour, Jordan.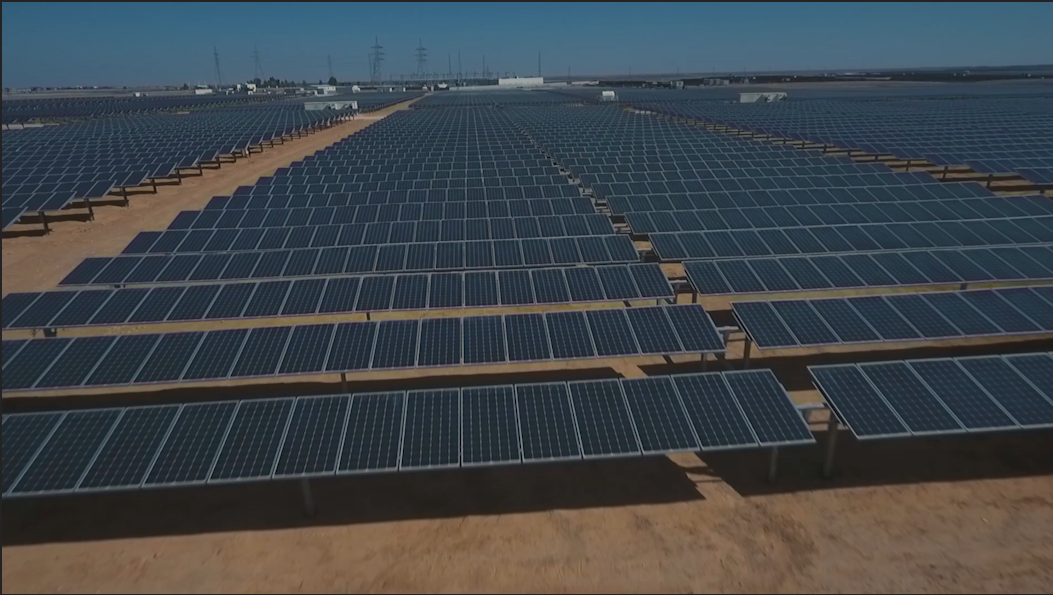 Jordan, like Egypt, has traditionally – and expensively – imported most of its fuel.
Although Jordan has only a tenth of Egypt's population, it faces similar demographic challenges. It expects significant rises in energy demand as a result, among other things, of population growth.
Jordan's ambition, set out in law in 2011, is to source 10 per cent of its power generation from renewable sources by 2020 (up from less than 1 per cent a decade ago). This has entailed building at least 1,800 MW of renewable capacity.
Plans are now in place for up to 2,000 MW in solar and wind energy projects by the end of the decade, relying on the private sector for finance. (The eight utility-scale renewables projects financed by the EBRD alone have a cumulative installed capacity of 300 MW.)  
Jordan's Ma'an Development Area, which enjoys about 320 days of sunshine a year, has seen more than 250 MW of concentrated solar power installed in the past three years.
Where next?
The practical question of how to scale up and increase market penetration around Africa.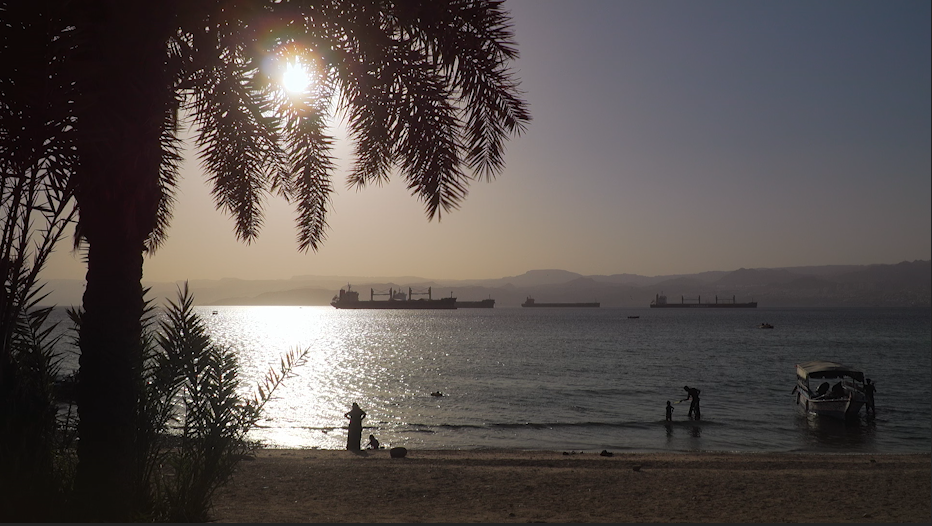 Despite the excitement, this is still a journey without maps.
"The biggest point that people often don't talk about is that, with all this fast drop in pricing, the contribution of renewables is still less than 10 per cent, or just about 10 per cent."
The unknown terrain ahead could bring previously unimaginable rewards. But snags need to be mapped too.
Africa50's Ebobissé talked about how the growth of solar, including off-grid production, could help supply the 600 million people in Africa who need reliable electricity and who have been promised it by 2030 through the UN Sustainable Development Goals.
But, he said, first costs need to come down, and batteries to store electricity need to be improved and become cheaper. There needs to be a better model to invest in the small businesses currently in the field to help give them the prospect of substantial growth. And governments new to the renewables field need help in negotiating complex and technically demanding energy deals with better equipped private partners.
What single improvement in the next year might bring the much deeper penetration that the industry and governments alike say they want?
"Storage. Inexpensive batteries to store solar power are widely held to be the 'next big thing' that the industry needs."
"I think this product is the future. It is one area everyone should prioritise. I think renewables and storage would be a game-changer."
Several other experts thought the biggest need was to make it easier to get money for development. Marie-Astrid de Montmarin, Area Manager, MEA, for France's EDF Nouvelles Energies, opted for tax reform and cheaper finance: "Where are the commercial banks?" Mikkel Torud, CFO of Norway's Scatec Solar, said: "I would say the cost of debt and the process of getting access to debt [is the biggest need]. There is still a lack of capacity."
As the renewables market of the future takes shape, the future of the shape of the deals made is also likely to change. Feed-in tariff deals, such as the Egyptian one that gave rise to Benban, may give way to more sophisticated competitive bidding that could bring prices still lower and "open the door to creating the conditions to allow for even larger investments in the future," said Harry Boyd-Carpenter.
With feed-in tariffs, the price (or tariff paid to the renewable energy generator) is set by the regulatory body responsible, while the quantity of renewable energy electricity generated is determined by market players. It's the other way around with competitive auctions, in which the regulatory body defines the amount of generating capacity it wants, and the tariff is defined by competitive bidding from project developers.
Of Benban, Boyd-Carpenter says: "When, having seen this development completed, the government then runs competitive tenders, the fact that you already have 10 to 12 serious investors established in Egypt means that they'll get a very competitive process."
Taking shape
The Benban desert is coming to life with the first operational project – just under 200,000 panels – already installed by Egypt's Infinity Solar, under the first round of the feed-in tariff scheme.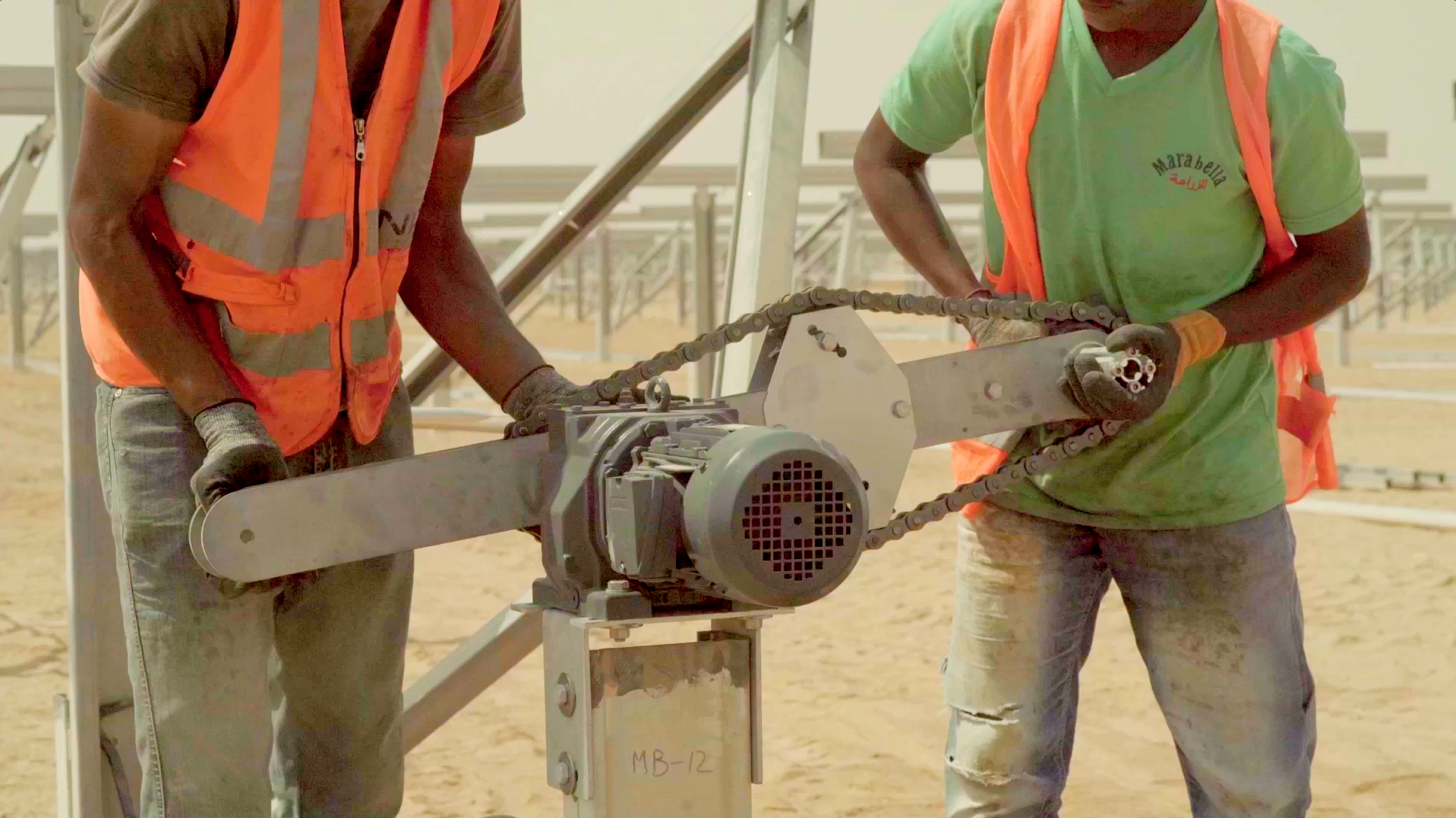 "This is a transformative project. And you can do this here, in the desert. What stops you? It doesn't need any water or any fuel, it doesn't make a noise. And the land is not being used for other purposes. Apart from hydropower, where there isn't much scope to build more, the electricity mix in this country is about 1 to 2 per cent renewables, so at the prices we are seeing now there is enormous room for growth – why not have 20 per cent, why not have 30? What's the barrier?"
For now, Egypt's main barrier to hitting even that first target is the need for more investment and building. Much more. The 1.8 GW Benban development represents most of the 2 GW of photovoltaic capacity that the Egyptian government offered through its current feed-in tariff system to encourage solar development.
To get to a 20 per cent proportion of renewables, Egypt will need to build more facilities – enough to produce an extra 10 GW – says Cairo-based EBRD banker Ahmed Mortada, who has been working on Benban from the start.
That's a huge amount, Mortada acknowledges – the equivalent of five more Benbans in five years – even though Egypt already also has two operational wind farms run by the government and some hydropower from Aswan's High Dam.
But, adds Mortada, it is achievable. "The beauty of solar is it has a short construction time – a year, or even as little as nine months."
So there will be time for more investors paying attention to Benban's success – once it is built – to come forward to build more, whether on a similar grand scale or more modestly.
They could still be producing in time for the deadline, says Mortada, and "doing a massive thing in the beginning is a very good story."
The government is also interested in further developing its wind power resources, he says. Design-wise this is more demanding, because a wind turbine is harder to install than a simple solar panel. But he sees Egypt focusing more on more complex wind investments in coming years, now that its initial drive to get solar –with its simple construction needs – up and running, is paying off.
Realistic hopes
and dreams
If experts' hopes are high, so are the hopes of the people of Aswan governorate as they see international finance arriving.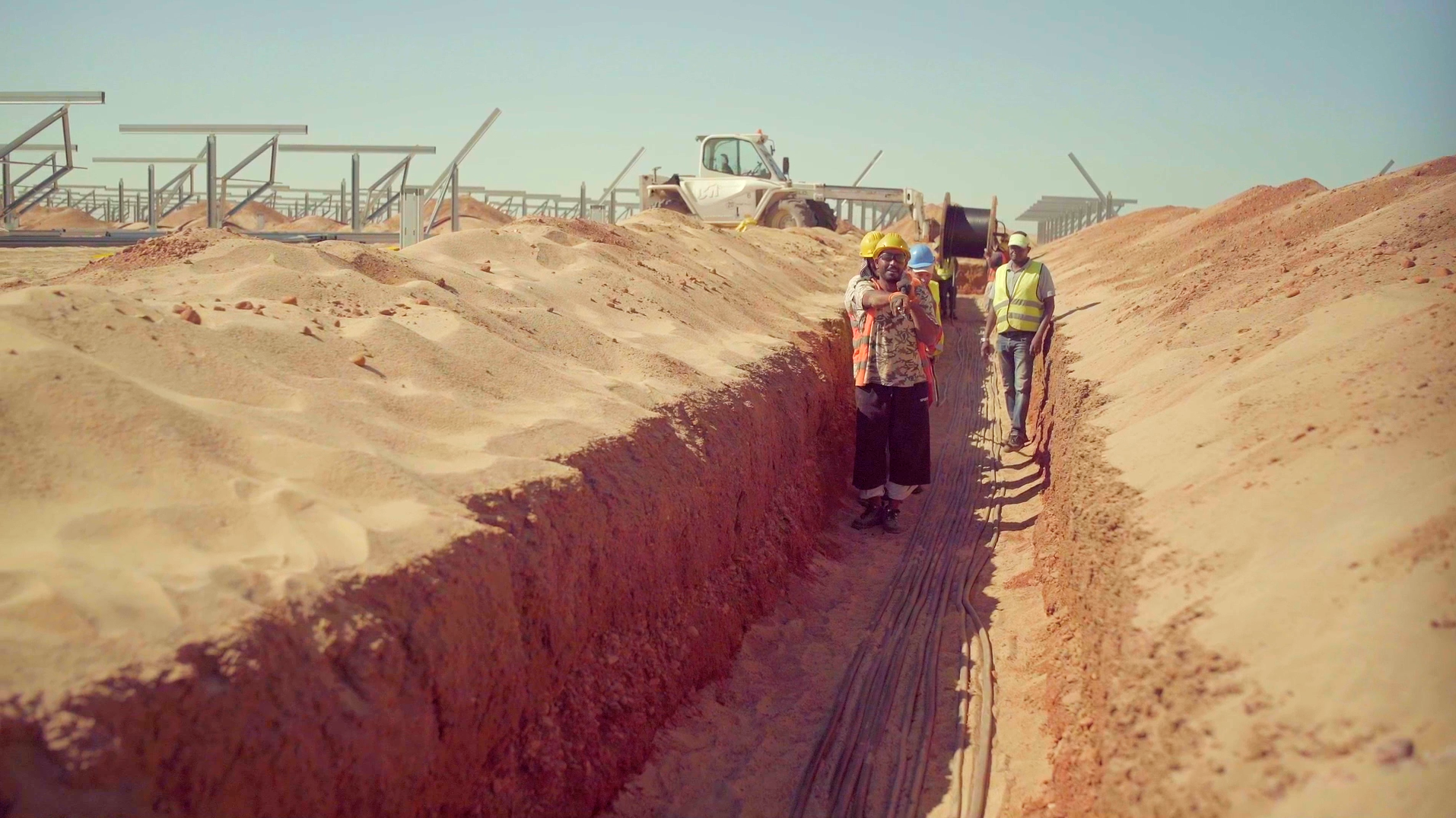 Since 2011, Aswan governor Magdy Fouad Hegazy has seen his region, traditionally dependent on Nile tourism, reeling from a series of political and economic shocks.
The temples and museums are still all but empty, though one tour guide said 2017 had been a better year than the five "horrible" ones before.
Unemployment is high, not least in Benban village, which, unlike many nearby settlements, has no factory or other big employer. Also high are the hopes that more jobs for local people will come from the solar building work. 
The EBRD's Ahmed Mortada said the Benban construction would "do a lot. Aswan is one of the poorest areas of Egypt. It desperately needs this. Hiring a worker on a daily rate is a life-changer to them. It really changes their social status and living standard."
Infinity Solar, first on the ground at Benban, has already been going out of its way to provide jobs. "Ninety-eight per cent of our labour is from Benban village," said Infinity director Nayer Fouad. "We try to employ as many local people as possible. This is important to the governor. All 600 of our labourers were from Benban, even the engineers. But we know there are 5,000 who want to work; we are trying to please everybody as much as possible."
To support the development of more work in the region, the EBRD's Reem El Saady, who works with small businesses, wants to develop her remit locally and help people set up catering, logistics and other companies to supply the park. But she talks of the need to keep hopes grounded in reality and not promise too much, to avoid disappointments.
The Benban solar development may offer other, less tangible, benefits. One geopolitical plus is that developing new energy supplies separate from the Nile river water, which has traditionally brought life to the country – whether as irrigation for the fields or electrical supply through Aswan's dams – is increasingly important to Egypt.
This is because Egypt fears the huge Renaissance Dam being built in nearby Ethiopia – from whose highlands the Blue Nile springs – might soon cut into its water supply, destroying precious farmland for some of its population of 93 million people.
One solution for Egypt would be to desalinate water from the Red Sea, but this is expensive. As the EBRD's senior political counsellor Tarek Osman pointed out, developing new energy supplies separate from the hydro ones reliant on the Nile river water is increasingly a priority for Egypt, to allay these concerns. The more renewables become integrated into Egypt's energy mix, the more economic some solutions to the potential water concerns are.
Construction of the newly financed plots and of the last three of four substations connecting the solar park to the grid at Benban was due to start in early 2018.
As plans move forward – amid all the possibilities, many still unquantifiable, and all the hopes – experts' advice is: keep an open mind.
"There is this habit of mind where people think what you have now is what you'll always have. Today we take it for granted that we have an energy sector built on hydrocarbons. That is true and will remain true for some time. But it didn't used to be oil and gas, it used to be coal. And before coal it was wood. Now in many countries wood is already an irrelevant source of energy and coal is becoming an irrelevant source. So things can change surprisingly quickly and dramatically. And they probably will."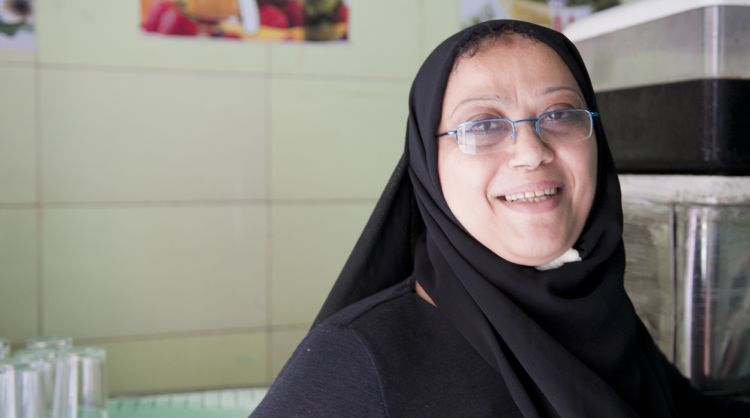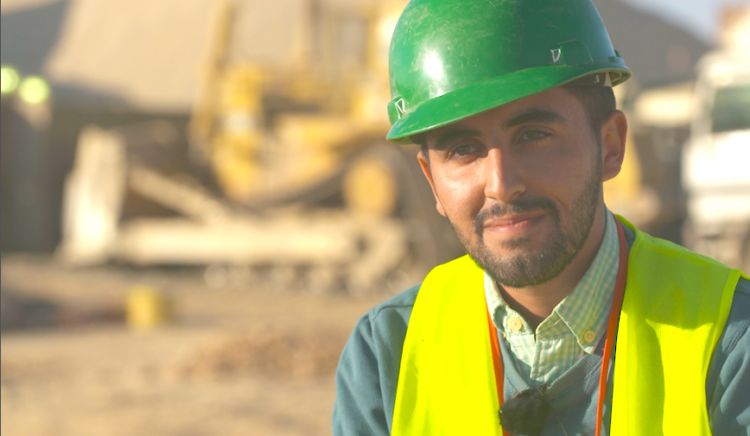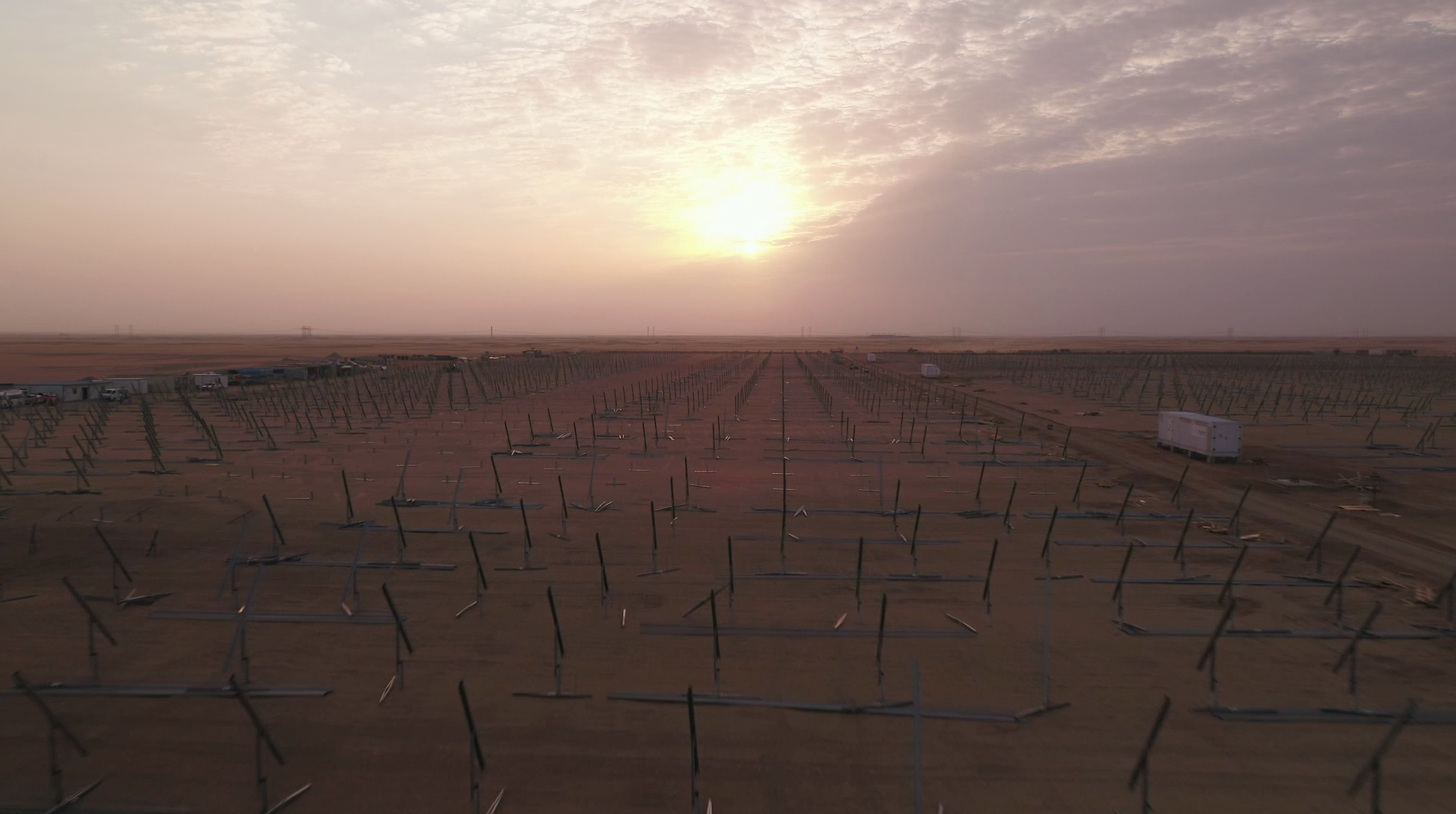 Find out more about the EBRD's work in renewable energy
Credits
Words: Vanora Bennett
Visuals: Rebecca Corbett and Dermot Doorly
Production: Bryan Whitford and Daniel Kelly
Published: 24 January 2018
The EBRD is a multilateral bank that promotes the development of the private sector and entrepreneurial initiative in 37 economies across three continents. The Bank is owned by 66 countries as well as the EU and the EIB. EBRD investments are aimed at making the economies in its regions competitive, inclusive, well-governed, green, and integrated. Follow us on the web, Facebook, LinkedIn, Instagram, Twitter and YouTube.